AssureBridge SyncFire™ product allows your company to streamline and automate user provisioning and user data synchronization between disparate internal and cloud/SaaS applications.  SyncFire™ is a full-service offering providing secure, robust, monitored, professional-strength identity synchronization service to companies of all sizes.  This full-service, hosted offering is available at a fraction of the cost of implementing your own in-house solution.
Provisioning and synchronization of user data across a number of distributed systems presents companies of various sizes with numerous implementation and operational challenges: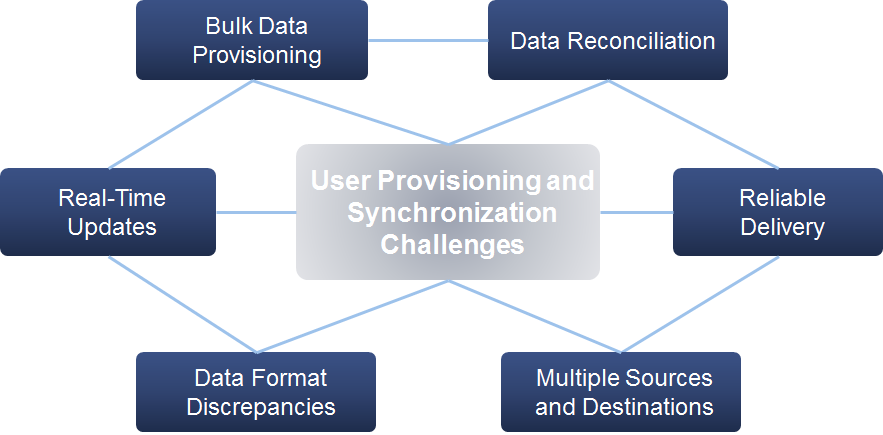 What is AssureBridge SyncFire™
AssureBridge SyncFire™ is the quickest and easiest way to synchronize user profile data across multiple systems, both internally hosted and deployed across the Internet.  The following diagram describes the key concepts of the SyncFire™ architecture: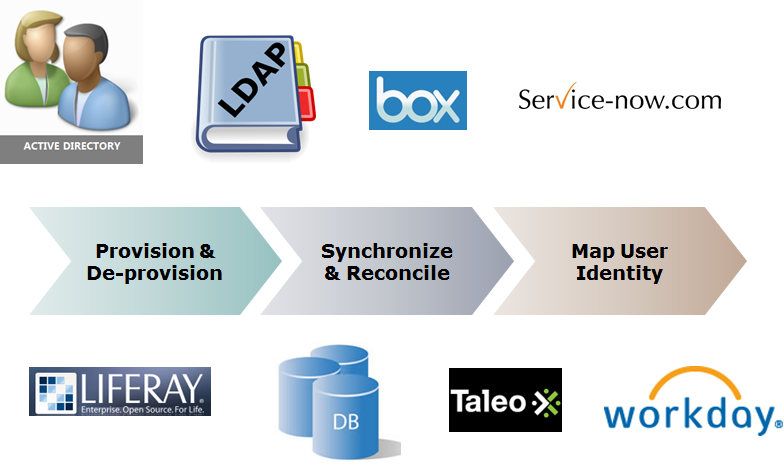 Our  state-of-the-art platform provides the following key features:
Bulk Data Loading

Allows large amounts of provisioning data
to be copied from one system to another

Automatic Synchronization Triggering

Allows changes in one system to be
propagated to other system(s) in real/near time

Identity reconciliation

Allows systems that have gotten out of sync
to be re-synched by just copying changes

Workflow support

Allows intelligent user input to resolve identity conflicts

Rich data mapping

Allows many forms of data to be copied including
user attributes and group information

Fault Tolerance

If one of the source/target systems is down,
copying automatically resumes when it comes back up.

Multi-Target

A single source directory can be propagated to
one or more target directories

Multi-Source

Identity can be combined from multiple directories
or services (e.g. LDAP, Database, WorkDay,
Liferay, Active Directory, etc.)

Performance Management

The rate of propagation can be controlled
to avoid overloading networks/servers

High-availability

Robust reliable infrastructure => No single point of failure
To learn more about user provisioning and synchronization challenges read this blog article.
Fast Implementation
SyncFire™ is a fully-managed offering. AssureBridge expert technical staff shields your organization from the complexities of application integration and provides domain expertise.  AssureBridge professional staff work with your partners to handle the complexities of identity synchronization.
Expert configuration. AssureBridge™ technicians work with your business partners to configure and test connectivity.  Our advanced test lab allows your partner's configuration to be confirmed in advance of end-to-end testing.
Rapid setup. AssureBridge advanced configuration and release management capabilities allow setting up SSO connectivity in record time. It takes our experts minutes to set up a trial and get you going!
Simple Integration
SyncFire™ easy-to-use connectors allow your applications to be integrated without requiring specialized knowledge of complex protocols, often with little or no coding. The following diagram demonstrates the key concept behind our lightweight adapter-based integration. While all the provisioning complexity is handled within our platform, your application only needs to plug in a lightweight adapter to become SyncFire™-enabled. Our adapters are easy to deploy and come with extensive documentation and samples.
Robust Cloud Platform
AssureBridge provides Provisioning Services via a highly-available robust On-Demand platform.
Highly-available Hosted Servers. Our servers are built to handle thousands of connections per minute.  Highly available, redundant servers assure that you and your partners can connect when you need to.
Automatic upgrades. As a hosted service, SyncFire™ is automatically kept at the most current levels without the need for costly turnovers.
Strong Security
Identity synchronization not only needs to be robust and reliable but highly secure. Security and audit compliance are very important concerns to companies that provide Online services. Cloud security is a complex field that requires specialized expertise and attention to ensure that your company and your partners are not exposed to hacker attacks.
Our platform is highly secure.  All client configuration information is protected with military-grade encryption. To learn more about our platform security features visit this page.
Enterprise-Class Operations
AssureBridge has implemented a state-of-the-art ITIL-compliant ITSM service delivery and operations model:
Continuous Monitoring. AssureBridge™ servers are monitored around the clock.  Our End-To-End Monitoring™ feature allows you to extend that monitoring to include both your applications as well as your partner's.
Advance Diagnostics. Synchronization problems can be tricky to troubleshoot.  Is the problem with you or your partner?  Is it the application or the network?  AssureBridge™ advanced diagnostics allow you to quickly pinpoint the cause of the problem with advanced tracing, logging, and connection testing.