Single Sign-On (SSO)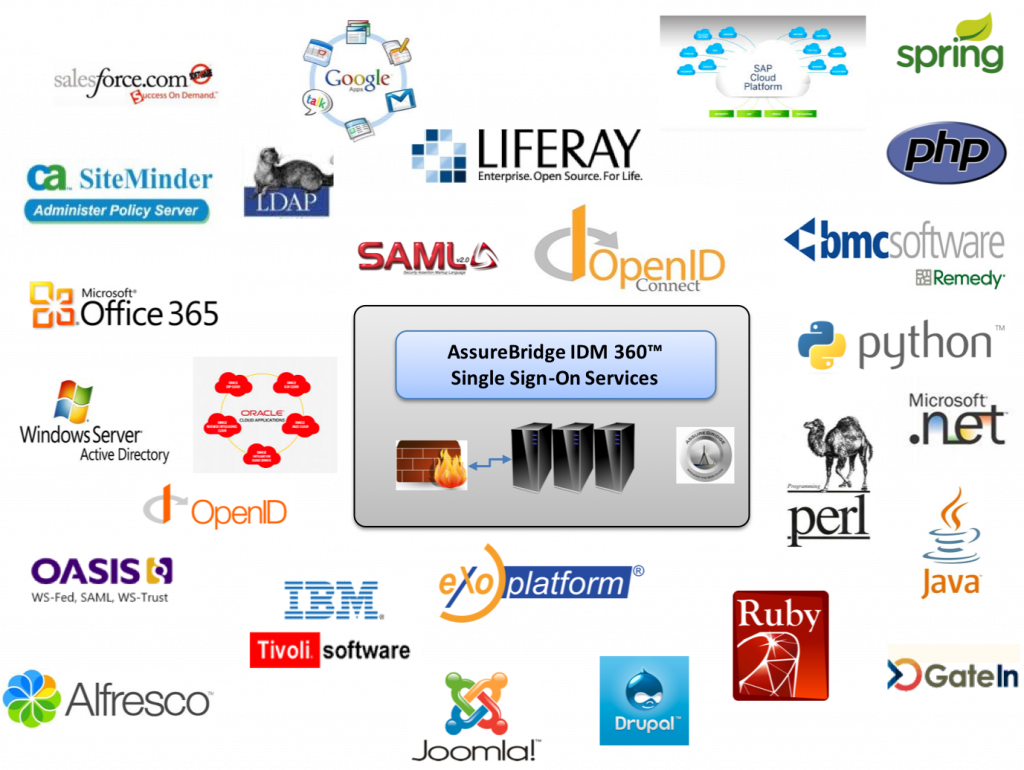 IDM 360™ provides the most comprehensive, compatible and manageable single sign-on capability of any SSO solution.  Single sign-on is supported both inbound (from your partners, customers to you) and outbound (from you to your partners or cloud-based services).  IDM 360™ supports all major protocols including SAML 1.0, SAML 2.0, WS-Federation, OpenID and OAuth.  If you have multiple customers, each with their own SSO capability, IDM 360™ multi-client support routes SSO requests to the appropriate customer/partner.  This capability provides unlimited federation potential both for supporting unlimited clients and customers and federating your internally developed, third-party and cloud-based applications.
IDM 360™ allows for the fastest SSO setup and integration
AssureBridge expert technical staff shields your organization from the complexities of Internet SSO integration and provides domain expertise.  AssureBridge professional staff work with your partners to handle the complexities of SSO configuration, metadata exchange, option negotiation, testing and troubleshooting.
Expert configuration. AssureBridge™ technicians work with your business partners to configure and test SSO connectivity.  Our advanced test lab allows your partner's configuration to be confirmed in advance of end-to-end testing.
Rapid setup. AssureBridge platform and advanced configuration and release management capabilities allow setting up SSO connectivity in record time. It takes our experts minutes to set up a test connection to get you going!
IDM 360™  has unparalleled Standards Support
Standards include:
SAML 1.1, SAML 2.0, WS-Federation, OAuth and OpenID support
Service Provider (SP) and Identity Provider (IdP) support
IDP and SP-initiated login
Full support for single logout (SLO), both SP and IdP initiated
Custom error pages for SaaS providers
Subject name mapping when user ids don't match between you and your partner
Custom Logout redirect
Multi-partner connectors and adapters
IDM 360™  greatly simplifies SSO integration and testing with your internal applications.

Custom adapters are available for virtually every language and platform.  These adapater quickly enable your internal applications with just a few lines of code.  Your developers do not require any knowledge of SSO protocols, encryption or certificate management since all complex functionality is encapsulated in our service.  Complete end-to-end SSO Testing is very important when developing an Internet/Cloud SSO solution. The key challenge is that your partner might not be ready to test for a long time, effectively slowing down your implementation. To help our customers avoid such delays, we provide both Lab and Test Harness based testing facilities. We offer lightweight SP and IdP test harness applications that allow you to quickly deploy and thoroughly test your SSO capabilities.
IDM 360™  SSO is available as a cloud-based solution or on-premise appliance

In either case, you receive the highest levels of support, availability and performance. Our hosted servers are built to handle thousands of connections per minute.  Highly available, redundant servers in multiple data centers assure that you and your partners can connect when you need to.  As a hosted service, IDM 360™ is automatically kept at the most current levels without the need for costly turnovers. The IDM 360™ appliance-based is also configurable in a shared-nothing highly available cluster for maximum availability. The platform is highly secure. No user-sensitive information is stored on the servers.  All client configuration information is protected with military-grade encryption. To learn more about our platform security features visit this page.
IDM 360™  SSO has the most advanced diagnostics and troubleshooting capabilities of any single sign-on solution

Single sign-on problems can be tricky to troubleshoot.  Is the problem with you or your partner?  Is it the application or the network?  IDM 360™ advanced diagnostics allow you to quickly pinpoint the cause of the problem with advanced tracing, logging, connection testing and continuous monitoring.