Mobility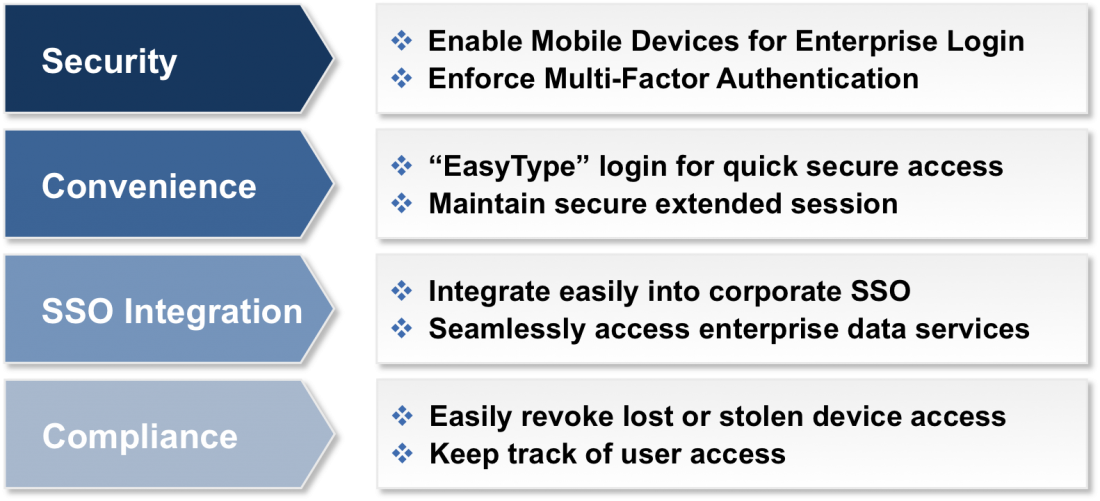 IDM 360™ provides comprehensive support for enabling your enterprise applications in the mobile space.  Enterprises are under pressure to serve ever increasing numbers of users that demand mobile access.  However, security remains paramount.  Mobile devices present unique security challenges such as lost devices and the difficulty of entering user ids and passwords on a small screen.  IDM 360™ combines the mobile ease of use with enterprise-class security.  Using industry standards including SAML and OAuth, mobile devices gain secure access to enterprise applications.
IDM 360™ Mobile keeps passwords secure
By combining enterprise single sign-on with mobile OAuth tokens, IDM 360™ never requires passwords to be stored on the mobile device.  When users first log-in to the application, they are directed via SSO to a mobile friendly login page (and optionally a second factor) for sign-on.  After successful sign-on, a device specific OAuth token is generated, encrypted and stored on the mobile device.  This token is then used in subsequent requests.  The passwords never leave the enterprise.  The access tokens locked to the device and have configurable expiration.  Tokens may be quickly revoked in the event a phone is lost or stolen.
IDM 360™ Mobile provides for simple integration to enterprise applications

IDM 360™ provides a simple library for Enterprise applications that wish to support mobile requests.  When the application receives a request, the application simply passes it to the token service for validation.  IDM 360™ takes care of token validation, revocation checks and expiration.  IDM 360™ uses a unique Smart-Token™ technology which is fully OAuth compliant yet allows for rapid checking of token authenticity without excessive calls across the network which may lead to delays.
IDM 360™ Mobile may offers multiple deployment options

IDM 360™ is available a cloud hosted service or an on-premise environment.  Since passwords do not leave the enterprise, the cloud offering is a secure way to get mobile applications up and running quickly.  Both the cloud and on-premise solutions are configured in highly available clusters to assure the highest levels of performance and availability.