All-In-One Identity Management
IDP Integration, Single Sign-On, Global Directory, Custom Landing pages, Directory Synchronization, AD integration, and Management Console in a single managed appliance.  Rapid deployment. Flexible and cost-effective pricing model makes it ideal for service providers.
IDM 360™ All-In-One is the most comprehensive, pre-packaged Identity Management system available today. A single appliance provides your enterprise with a total identity solution including a high-capacity directory, advanced management, single sign-on, Active Directory integration, customizable authentication, synchronization and mobile device support. TheIDM 360™ All-In-One solution is available as a virtual appliance that may be hosted on your corporate network, a hosting provider such as Amazon or Azure or in the AssureBridge Cloud. Ideal for hosting customer identities, the IDM 360™ All-In-One appliance can scale to millions of users yet provide reliable, high-speed, and secure access.
The advanced features of the IDM 360™ All-In-One appliance include: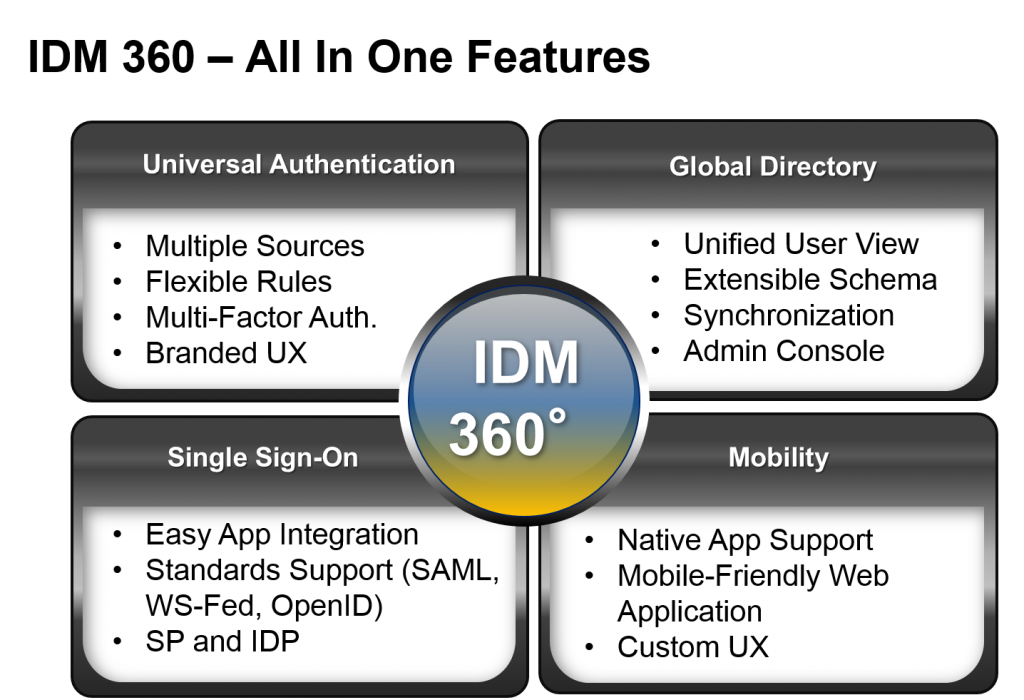 IDP Integration
Users logging into your websites and other system can be authenticated against the all-in-one directory, active directory, SAML SSO, custom database or social network. The login experience can be branded to allow each of your customers a custom-tailored login experience complete with colors, logos, disclaimers and help-desk numbers.IDM 360™ All-In-One includes multi-factor authentication for extra security including one-time passwords, secret questions, and soft-tokens. A powerful but flexible rules engine assures the right type and right amount of sign-on security for each user. For example, employees logging in from outside your company network use the company active directory but also add two-factor authentication. Customer A uses the All-In-One directory with a custom-branded login page, while customer B owns a single sign-on product and signs on transparently.
Global Directory
All-in-one includes a powerful corporate directory that scales to millions of users. Fully compliant with the Lightweight Directory Access Protocol (LDAP) standard, the directory can hold employee, customer, prospect and partner records in any combination. A full array of password policies are supported expiration, old password re-use, retry prevention and reset. For employees, the global directory can pass login requests back to the corporate active directory to avoid the need to synchronize passwords.IDM 360™ All-In-One Global Directory includes sophisticated synchronization to allow users to be loaded to or from legacy directories, databases and cloud based applications. This allows the all-in-one to be introduced into your corporate network gradually without having to migrate all systems at once. Directory security is enforced with detailed access control policies and full network encryption (SSL).
TheIDM 360™ All-In-One directory provides a user friendly administrative tool that is ideal for help desk personnel and local administrators. It allows administrators to be restricted to just enough administrative functions to manage day to day activities. It includes, adding users and groups, user to group assignment, defining customers, password resets and more. Delegated administrator can manage specific divisions, customers or groups.
TheIDM 360™ All-In-One directory is completely extensible so is ideal for storing custom profile information such as customer preferences, contact information, sales-cycle data, etc.
Single Sign-on
IDM 360™ All-In-One Single Sign-On is a comprehensive, standards-based SSO offering supporting all popular standards including SAML 1.1, SAML 2.0, WS-Federation, OAuth, and OpenIDConnect. IDM 360™ All-In-One SSO supports inbound SSO to allow your clients, customer and partners to seamlessly login from their company intranets. Similarly, outbound SSO allows your customers and partners to seamlessly connect to service providers, partners and cloud-based services using corporate credentials served from the any combination of the Global Directory, Active Directory, company database or any other source.
Mobility
IDM 360™ All-In-One contains powerful support for mobile application sign-on. Both native and web-based applications are supported. Mobile application can safely sign-in without the need to store passwords on the device itself. All-in-one provides mobile token management, request verification, and lost/stolen device revocation services. The mobile sign-on UI experience can be customized for each customer.IDM 360™ All-In-One provides powerful support for applications that serve mobile devices.   When an application receives a request from a mobile device, it can simply and quickly verify the authenticity of the request with IDM 360™ All-In-One without the need to code complex mobile support into each application service.